Home Renovations: Round 2 – Vinyl Siding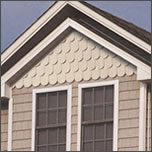 Stunned silence.
That was our reaction when given the number.
First things first — we called a contractor for an estimate last week and they came out on Friday evening. Now, my wife and I like to buy things, we don't like to be sold them. Why is it that every contractor has a seedy sales team? It's worse than buying a car.
I digress. Plain and simple, we want vinyl siding. We want the little fish scales in the peaks, contrasting trim around the windows, a new front door, and a new basement hatch. That's it.
We don't want 10 free windows. We don't want free gutters.
Don't tell us what colour we should get. Don't tell us that shutters are in style.
Don't tell us what we want.
And don't ask us to sign something.
 We *know* what we want, and we're asking if you can do it for us and for how much.
And don't tell us that it will be hard to find the right size basement hatch or to install a specific door. We don't care. We're paying you to do it. I can't imagine doing that in my job — offering something and then telling a client, "Well, that's really hard to do." What?
On the bright side, they do good work. There are a number of homes in the area that they've resurrected from the dead and we'd really like to join them.
On that note, they kept calling our house a "show piece". One of the houses they recently completed is just up the road — and they took us over to oogle their house. Right around dinner time. That had better not happen with our house. I don't want a "show piece". And I certainly don't want strangers walking around my house.
Anyway, it was the bottom line that left us stunned — basically between $24k and $26k in total. Unfortunately, that's about $10k more than we were prepared for.
To finance the project, it looks like we'll be using a few of those handy "convenience checks" that credit cards sneak in there on page two of the bill. Using those, our interest rate will top out at 4.9%, which is a lot better than the 15.5% loan we took out from Bank of America to finance the roof.
It still hurts, though, to have just crawled out of the hole and instantly be buried under another 5 figure balance.