Connecticut Named Richest State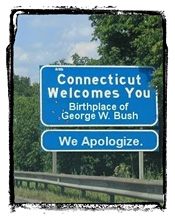 Connecticut might not be gaining people very fast, but it's at the top of the pack when it comes to gaining income. In 2007, Connecticut not only remained the nation's richest state — it widened its lead, a report today showed.
Total income per person rose from $50,762 in 2006 to $54,117 last year — the highest in the nation and more than 40 percent higher than the national average of $38,611, according to the report, from the U.S. Department of Commerce.
The 6.6 percent gain in Connecticut's per capita income from 2006 to 2007 was well above the 5.2 percent national average.
Connecticut's high proportion of white-collar workers has been a major factor in keeping the state's per capita income the highest in the nation; 39 percent of workers over 16 saying they are employed in management or professional jobs, according to the Census Bureau's 2006 American Community Survey. Another 15 percent said they held office jobs.
– – – – – – – – –
I knew I lived here for a reason…
But seriously, while it might sound like it's the greatest place in the world to live, it's also very expensive… Not Southern California expensive, but not real far off either…
I couldn't find the raw data anywhere, but I find it shocking that the total income per person was around $54k!?
Do they really mean per person?
I'm pretty sure the "average" family of 4 in Connecticut isn't pulling in over $200k… At least I hope not… or I've got to start thinking about getting a second job!
My guess is that it should say that it was the average among wage earners.
Still seems a wee bit high to me.