Señor Bernanke? In a Sombrero? Really?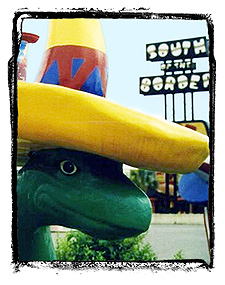 You hear about "the Fed" on every broadcast of the nightly news these days, you see his face more often than not in the graphic to the right of your local anchor's head, but who is this guy? Where did he come from?
Amazingly enough, Ben Bernanke came from South of the Border…
No joke.
For anyone who has ever driven the entire length of I-95, from Maine to Florida, there isn't a lot to look at. From Boston to New York it's a seemingly endless traffic jam for no apparent reason. New Jersey to Washington DC is just one toll booth after another.
Once clear of the related congestion, things open up, but then you have to deal with the Virginia drivers.
This is also where the signs begin to pop-up for Dillon, South Carolina's kitsch roadside attraction "South of the Border."
This is no Taco Bell.
The billboards for this place start to dot the shoulders along I-95 well over 100 miles in advance — with mileage updates every few miles. It actually makes the drive go by a lot faster, getting a small chuckle every few miles.
For a kid, or even an adult, the anticipation these signs ingrain is incredible. You honestly start to think that in "just" 133 miles, you'll see the greatest thing in the world.
Five miles later, it gets even better. "You never sausage a place."
By the time you hit the South Carolina border (assuming you're traveling south), and then Dillon, you can see the Sombrero tower on the horizon. You're there.
The destination you've heard so much about, albeit via primitive highway billboards.
Yes, you're now South of the Border.
And this is where arguably the most influential man in the country today got his start…
Waiting tables… wait for it… wait for it… in the Sombrero Room.
My wife and I stopped (how could we not?) and, gasp, even stayed at South of the Border back in 2006. I can't say it was the greatest hotel we've stayed in (what can you really expect for under $40/night) and I wouldn't recommend staying there, but they weren't kidding on the billboard where they state that they have a car port for every room. They really do.
In fact, I'd guess that almost everything they boast on their 100 or so billboards is actually true. It's… odd.
We spent a couple of hours walking around, posing for photos with all of the ridiculous kitsch sculptures as most of the shops and attractions were closed while we were there. Understandable as it was late on a Tuesday night, I believe.
But we did have a late bite to eat there, oddly enough, in the Sombrero Room. Unbeknownst to us at the time, it was Bernanke's old stomping ground. It's hard to fathom.
I remember being slightly disappointed with the quality and the service but quite happy about the price.
One thing I don't remember, however, were any future Fed Chairman types working the counter.
Hey, you never know…