Eddie Vedder and the TicketMaster Surcharge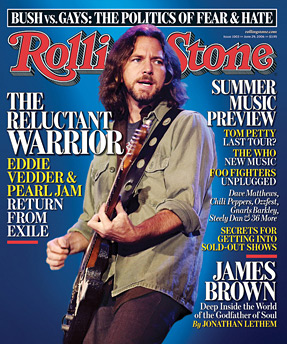 This is going to sound ridiculous to some.
And it makes it quite apparent that I don't buy tickets for events very often, but for some reason I thought that Pearl Jam actually "won" the battle against TicketMaster and their phantom surcharges in the 1990's.
Apparently I'm mistaken.
On our upcoming vacation, I was hoping to catch a Blue Jays game at SkyDome (I will always call it that, regardless of the corporate sponsor) while passing through Toronto.
I'm not exactly a fan of baseball — it's boring, but if I had to pick a team, the Jays are the one for me.
Unfortunately, my hopes of actually seeing them in action for the first time in 20 years were dashed because the Jays will be in Seattle at the time. Drat.
Enter the Toronto Argonauts.
South of the 49th parallel, I'm sure some are saying, "Who?"
The Toronto Argonauts play in the Canadian Football League.
Yeah, that might sound minor league, but they've been going strong in Toronto since 1873. Yeah, that's right, a good thirty years before the New York Yankees even came around. Essentially, this isn't some semi-pro run of the mill operation.
I've attended one CFL game in my life — and Argos game back in 1991. The big name for the team back then was Raghib "Rocket" Ismael. He'd just won the Heisman trophy for Notre Dame earlier in the year and was expected to be a first round pick in the NFL draft.
Instead, he chose to go play for the storied Toronto Argonauts. I'm sure the $26.2 million paycheck likely had a little to do with it — that was more than any NFL player was being paid at the time, but hey, he still chose to go to Canada.
On opening night — the game I attended — he returned a kickoff for a touchdown just as he had done so many times for Notre Dame. Mike "Pinball" Clemons was the star of the team — but Rocket Ismael was the hype.
So as it works out, we'll be in Toronto for opening night this year. On July 3, the Argos will be hosting the rival Hamilton TigerCats. I'm looking forward to it.
The Argos can't boast a line-up with stars like Rocket anymore. Joe Theisman and Doug Flutie are long retired at this point too. Ricky Williams, well, isn't he in prison or something? Old Mike Clemons is still around but in a front office role.
I did read recently that former Colts and Cowboys kicker Mike Vanderjagt has signed with the team — but seriously, can anyone get excited about a kicker? Not me.
Anyway, in lieu of a Blue Jays game, the Argos seemed like a pretty good consolation prize. Being opening night almost made it a better "event" to attend than a mid-season Jays game anyway.
Off to TicketMaster I ventured.
Their clumsy anti-scalper interface makes buying tickets a real hassle. You need to enter hard-to-read verification words, then you're under a time constraint to complete your order, and their stadium diagrams are so small that you can't read the section numbers. If you're not quick enough, they cancel your order.
You'd think that being as big as they are, they'd have a better website.
In the end, I settled on two tickets in the $79 ticket bracket. Premium tickets, apparently, even though they're in the upper deck.
Yeah, I know… Overpriced.
I entered all of my info and came to the place where you get to select "how" you'd like your tickets.
I weighed the options (in under 45 seconds so that they wouldn't "release" my tickets).
Regular mail was free but they state, "Your tickets will be delivered by regular mail and should be received no later than 5 business days prior to your event." We'd likely already be on vacation then.
FedEx — the other mailing option — would cost $32. Can you say rip off? Mailing, obviously, just wasn't going to work.
Will call is free, as well, but being opening night, I'm not real keen on standing in the line that ticket window will likely have. I'd probably miss all of the opening ceremonies waiting in line. No thanks.
They also offer a free TicketMaster retail location pickup option. That would work — except it has to be a retail location in Canada. I'm in smack dab in the middle of Boston and New York City. There aren't any convenient Canadian locations in my neck of the woods…
So I opted for the last option — the one where you print your tickets at home. They call it TicketFast.
I've always been skeptical of this sort of thing. Kinda like e-tickets for airline flights…
I dunno, something just doesn't seem legit about handing someone a folded up piece of paper from a printed out email (that cost you a lot of money).
It's not official.
It's too easy to fake.
What if there's a problem? Dispute at the gate? Then what? All you have is a sheet of paper you printed at home working in your favor…
Back against the wall, it was the only option I had so I took it. Any you know what?
TicketMaster charged me an additional $1.75.
Huh? It costs that much to send me an email? They send a order confirmation email anyway — what's the extra charge for? I'm the one printing the ticket…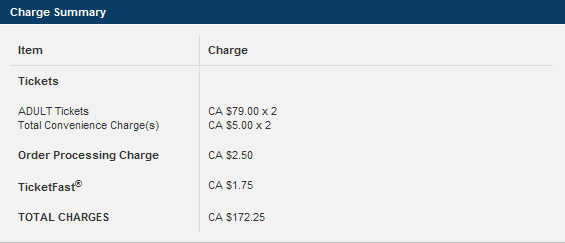 Check that out — in addition to the $1.75 TicketFast surcharge — they nailed me with an additional $2.50 cent "Order Processing Fee".  What's that all about? 
Oh, and I hope you didn't miss the $10 they're charging me just for, in their words, "Total Convenience." What?
In total, TicketMaster took in $14.25 from my order. That's almost a 10% markup.
Where's a coupon code when you need one?
It's too bad Pearl Jam didn't win the fight — only a monopoly could get away with this sort of thing…