Value Dropping Every Minute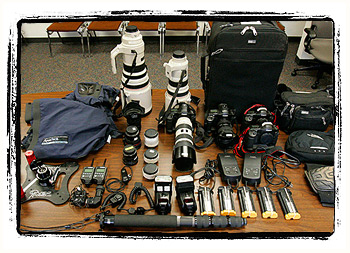 I'm not sure if I've mentioned it in the past before on PIAC, but since I quit my photographer position last November, I've had around $30k worth of camera equipment essentially collecting dust in the corner of my, ahem, jersey room.
While the lenses and the lighting equipment hold their value, the actual camera bodies certainly do not — and they make up for at least half of that $30k total. Definitely a depreciating asset…
So, having noticed a blog that my wife frequents regularly has a "daily photo" section and that I've got tons and tons of expensive camera equipment doing a whole lot of nothing, well, I thought I'd start doing "picture of the day" posts here too!
It probably won't be popular.
It probably won't be nice to look at.
And it probably won't generate any comments either but I can't fathom selling the equipment off and it hurts to watch it go un-used.
Maybe I'll even use January 2007's "Dumbest Purchase".
Not sure when I'll start…or even if I'll start.
It's just an idea at this point.