You Paid *How* Much for a Used What?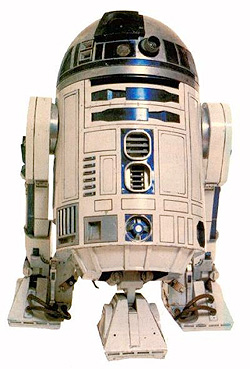 Over the weekend, I bought a vacuum cleaner.
Not exactly exciting or out of the ordinary stuff on its own until I tell you that I bought it used *and* I paid just shy of $800 for it.
Say what?
Yep, see, of late (and for the last 7 years) we've been getting by using a $60 piece of crap Eureka upright that I bought at Ames (when they were still in business) and my wife's much nicer Hoover upright.
I say it's nicer because it has a headlight, you know, for those night time vacuuming sessions…or something?
Anyway, my vacuum apparently doesn't work (according to my wife — I obviously don't do a lot of the vacuuming).
And I just don't like upright vacuums.
See, everytime she vacuums, I launch into an asthma-like attack where the rest of my day is pretty much shot.
This might explain why I don't do much of the vacuuming. It's one of those cause and effect things…
Back on topic… When I was a kid, we never had an upright vacuum. When ever there'd be a vacuum featured on the Price is Right or something, I always thought it looked weird.
Little did I know, our vacuum was the "weird" one.
It looked like R2-D2 in a brown 1970's style colour scheme. Where R2 had those two blue vent looking circles on his chest, well, that's where the hose went on our vacuum.
It was a beast — and it looked like the best robot ever.
When I went away to university, my mom was still using that same vacuum cleaner.
And I *still* thought it looked cool.
Dare I admit, I even used it a few times. Yep. I did.
So, anyway, a few years pass and I come back home after university… The R2-D2 vacuum is still going strong (now pushing 30+ years old) but my dad — now retired — is sucked in to an Oreck XL infomercial.
I'm not sure how he manged to click off of FoxNews for more than a second, but he did, and a few days later the Oreck XL — an upright vacuum — arrived on our front porch.
So long R2-D2.
I wasn't actually home when R2-D2 disappeared — I would have appealed — but it didn't take long to notice that *something* in our house was different.
I couldn't breath.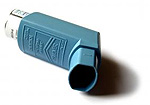 At first — since I'm one of those guys that's allergic to *everything* — I thought I might just be reacclimating to living in a house with dogs after so many years away.
Then I blamed the Glade spray that my mom would spray in the basement where she smoked (she's since quit).
Both seemed like great explanations until one day I was on the couch watching a UConn Women's basketball game and my mom started vacuuming.
It was that damn Oreck XL. It blew more crap out than it sucked in.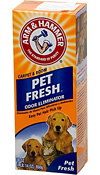 And it was like it's bag was coated with some sort of deodorizer or something. In the sunlight, you could see that the room was *filled* with a fine powder.
Dust, maybe, but it was scented like that Arm & Hammer powder people use to cover the smell of dog pee. Mmmm… potpourri flavored dog piss in powder form…
I wanted R2-D2 back.
Anyway, when I finally moved out and bought my previously mentioned Eureka upright — strictly avoiding Oreck — I quickly noticed that Oreck wasn't to blame for my breathing issues.
Upright vacuums, in general, were the problem.
They *all* have a freakin' fan in close proximity to the spot where they're supposed to suck. What's up with that?
Talk about a design flaw. Yeah, even you Dyson…
So off I went to eBay in search of one of R2-D2's siblings. When they say that you can find 'IT' on eBay, well, they're not kidding.
There he was — the exact same vacuum I remember sucking up my Legos and my sister's Barbie shoes. Built in 1971 he was commanding $350 on eBay?!
What?
And he had 27 bids?
Holy crap?!
I let my parents have it over the phone — they threw away R2-D2 when they could have sold him for hundreds of dollars?! Ugh…
At the time, I couldn't pull the trigger or justify spending so much money on a 30+ year old vacuum but I made sure to remember the name.

Rainbow.
Someday I'd have one. Someday.
Well, that day will be later this week when it arrives.
I didn't buy the 1971 model opting instead for an early 2000's model. It still resembles R2-D2, kinda-sorta, except he's not all metal like he used to be. No chrome either.
Maybe this one won't weight as much as an anvil.
The horrible brown colour scheme remains, though. Go figure.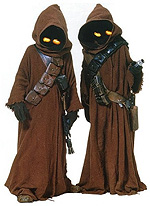 Actually, you know what? This newer model kinda looks more like that other little droid that the Jawas tired to sell to Luke's uncle Owen. His name was R4-D4.
Yes, I *really* enjoyed the first couple of Star Wars movies…
So, in the end, I paid $760 for a decade-old vacuum.
Crazy?
Perhaps, but brand new it would have cost me around $2600 (and required an in-home demonstration from a pushy salesman that would make me very uncomfortable).
I was already sold — I don't need a salesman to sell it to me — but that's the way they do business.
Since good old R2-D2 was still going strong after nearly 30 years, I felt confident in buying this one used.
Sure, it seems gross to buy someone else's vacuum — it skeeves me out too — but it's not like you eat off of it or sleep on it or anything.
Best of all, I think we'll be vacuuming a lot more often once it arrives — no, not because it's easier but because it won't cause me so much post-vacuum misery.
That, and since it's *my* vacuum, my wife will probably make me do more of the vacuuming myself.
This is a win/win situation for both of us!
– – – – – – – – – – – – – – – – – – – – – – – – – – – – – –
PIAC Post Extension: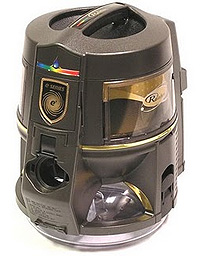 For the record, the model I purchased is the Rainbow E2.
You can look it up if you like. It's a canister vacuum that doesn't use a bag — it uses a pan of water that you fill each time to collect the dust, dirt, dog food, Legos, and Barbie shoes and things.
The whole marketing gimmick that they use is that "wet dust can't fly".
It's a pretty fair statement — wet dust really doesn't fly — but it sounds like a load of crap at the same time — you know, like how a Dyson can cruise around corners on it's ball and "never loses suction".
Yeah, okay, whatever Jim… That fancy accent of yours isn't going to fool me.
I've never personally had a Dyson but I've also never had a problem taking a corner with a vacuum cleaner either…
But here's the thing — the ridiculous gimmick of the water reservoir on Rainbow vacuum cleaners *actually* works. That and a design where there isn't a fan blowing right on top of where you're vacuuming doesn't hurt either.
Yeah, this is a glowing review. This thing works, I'm telling you, and I don't even have it in my hands yet.
Twenty five years of personally living with R2-D2 proved that to me.
The newer models might not be built like a tank but the idea is still the same — and it's still *so* much different than anything else out there.
Yeah, I'm talking to you Dirt Devil, Electrolux, Hoover, Eureka, Dyson, and Bissel…
It's a shame that so few people have ever even heard of Rainbow.
And seriously, who doesn't like R2-D2?
By the way, the latest models use a blue colour scheme… Yep, just like the real R2…
And I'd bet than in another 30 years, Duncan will be saying to his wife, "We should buy one of those vacuums that looks like that beeping robot in that dumb space movie my dad liked…"
And it'll be a wise decision.