Putting Things in Perspective after Halloween is Cancelled
I wish I could claim that my lack of posting were due the to widepsread power outages here in Connecticut but that'd be a half-truth.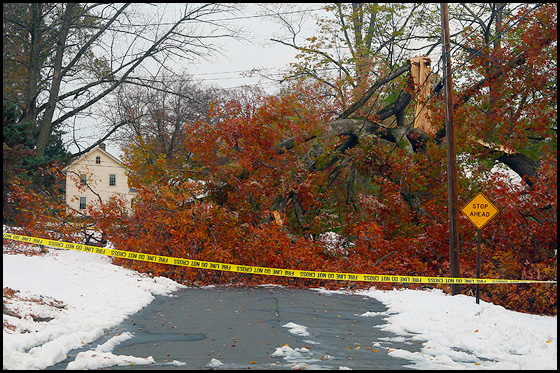 Anyway, after four freezing nights without power or heat and a pseduo gas crisis (gas stations can't pump gas without power…), I almost miss the expectation of spending another cold night with the entire family huddled into one dark (and cold) room now that the power is back on and I'm 12 inches from two flat screen monitors with iTunes blaring out some random rock hits from the early 1990's.
There are a lot of irate local politicians here calling for the power company's head. Earlier in the week, 87% of Connecticut was dark. Halloween was even cancelled.
We're talking totally dark.
No traffic lights. None. Not even blinking yellow or red. They were off.
Just think about how crazy that'd make the roads? For nearly a week?
On top of it, the temperatures were dipping into the 20's at night.
In my house, we could see our breathe. Yeah, it was cold.
So the politicians might have a point. Sorta.
But my PIAC persona was thinking about things differently.
Electricity is a bargain!!!
My average electric bill is around $150 per month. That's five bucks per day.
Our utility provider is routinely criticized for having some of the highest rates in the country. I don't know that this is a fact — perhaps just something that an angry politician is throwing out there just before election day next Tuesday — but I do know that I'd have gladly paid $5 for just one working outlet for a few hours as my family froze each night.
Yeah, electricity for my entire house is just $5 per day.
I'm not going to bash Connecticut Light & Power for offering such a great deal.
It's a miracle that electricity is so cheap.