Debt Management Strategy: Lowest Balance or Highest Rate?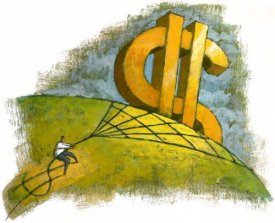 I'm often asked why I've repeatedly chosen to pay down my some of my lowest interest debt ahead of all of my other "higher cost" balances.
Actually, that's not true at all.
I'm almost never asked about money since most people are afraid to talk about it. But, I'm going to pretend people ask me that all the time anyway…
It's about options — and having more of them to choose from.
For most people with pretty decent credit, the debt with the lowest interest rate attached is pretty universally a car loan.
I mean, I could go out and finance an $80k Range Rover Sport this afternoon at a crazy low rate. Probably even drive it home tonight…
It's cheap money that's readily available.
Sounds great, right? Well… it sort of is and sort of isn't.
Nearly everyone can afford a sweet ride. Not everyone can afford to keep it.
Anyway, in my "real-life" case, I've got an 2.9% auto loan with a little over $10k remaining on it. And I also have an outstanding $3500 balance on my credit cards with an APR over 10%.
Suze Orman, Dave Ramsey, Clark Howard, any televised money guru, really, would recommend that I pay off the lowest balance or the highest rate first.
In my case, the credit card wins on both terms — it has a low balance and a high rate.
I understand the methods — Ramsey wants people to gain momentum and accomplish things quickly. Basically, wipe one balance out quickly to get yourself going.
Totally get that.
The mathmatically sensible thing to do, though, would be to pay the highest rate balance first since it's "costing" you more each month than the lower rate balances.
And, clearly, that makes sense too. There isn't any grey area when it comes to math.
But what those two ideologies are overlooking is — insert menacing fanfare here — the minimum monthly payment.
Say that again in a monster truck commercial voice.
MINIMUM. MONTHLY. PAYMENT.
So, back to my real-life example…
Credit cards, by design, have insanely low minimum monthly payments. I mean, their whole business relies on you not ever paying them back in full — that's why there is no term.
They don't want you to default…but they want you just short of defaulting…forever. That's how they make money.
In my case, the minimum payment on my $3500 balance is $55. Hardly budget busting.
In contrast, the minimum monthly payment on my auto loan is $444.
That's the equivalent of 8 months worth of credit card payments…in the span of two biweekly pay periods.
Financial freedom is all about having options — you know, money available to spend on what you choose to spend it on.
With that in mind, wouldn't freeing up a mandatory $444 monthly expense be the faster path to financial freedom?
I mean, once that's gone, I'll be able to make double minimum payments to the credit card and still have an "extra" $400 to use in my budget where ever I choose.
That's freedom.
Eliminate the big (non-mortgage) bills first — regardless of the balance or the rate.
It'll make everything that follows so much more manageable.