Net Worth Update: October 2015 (-$8116)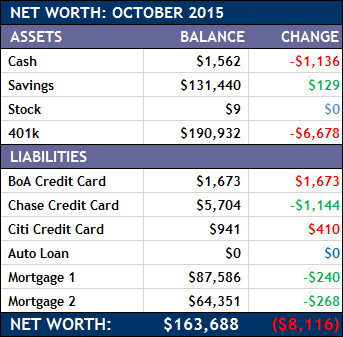 Yeah, so last month I was pretty confident that I'd turned a corner and was well on my way to building wealth again…and then I ended up down another 8 grand…
Granted, the markets continued to tank so my 401k kind of acted as an anchor of sorts but I also spent a TON this month.
Back in August, I mentioned that my oldest son would be trying out for a travel hockey team. Well… he made the team which is so awesome as he's "playing up" (basically playing at a level above his age group) but with that come some pretty hefty expenses…you know, to the tune of $3000.
On top of that, my middle son's hockey season is another $500. Yeah, this isn't like the $60 town league soccer program…
So that was the main budget buster, though much of it is hidden in this update as I paid down the balances prior to the end of the month — as much as I could, anyway.
We also purchased a new mattress from Casper.com. I'd heard enough good things about them and knew that, since our staircase is so narrow, we needed something that we could get up into the room without causing all kinds of damage to the walls and ceiling.
It came in a box that was manageable in size and enlarged once we cut it open. Pretty cool. Pretty comfy. And, thankfully, a purchase what we'll make maybe once per decade.
Outside of that, it's business as usual around here…
Oh, have I mentioned how nice it is not having a car payment again?
Yeah, that's pretty sweet.