Intriguing Credit Card Offer: The 0% Offer Makes a Return
I've been looking over all of the credit card offers that have been coming in the mail for the past few weeks with a fine tooth comb to possibly use to finance reaching the magic 78% number on my mortgage balance (to eliminate PMI) sooner rather than later.
None have really peaked my interest since that first mailing a few weeks ago from Chase that I noticed offering 0% until April 2009, along with a 3% transaction fee capped at $199.
In fact, none have really come close. A few 1.99% offers until paid in full from Bank of America, which isn't bad, but nothing lower than that. Citi's recent offers have been terrible, just terrible, like their rewards.
This morning, though, I logged into my Chase account and scoped out their current "Balance Transfer Offers" and here's what it displayed: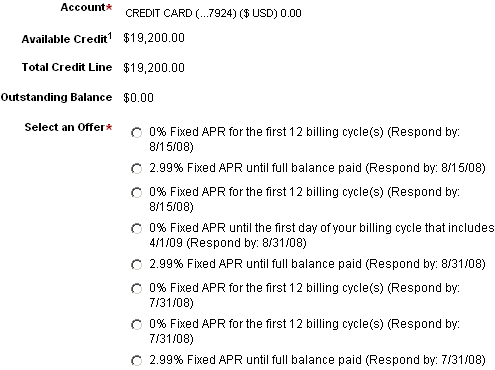 No explanation of the attached fees — those will likely be displayed only after I select an offer.
Either way, it will likely be the standard 3% with a cap of $199 so that's what I'll base my assumptions on.
The duplicated 0% for 12 months offers are obviously more attractive than the April 2009 offer that I received in the mail.
This is also the first time in a long time that I've noticed a 0% offer lasting for more than 3-4 billing cycles.
I'm also seeing another additional bonus to this offer — that it's from Chase.
Unlike CitiBank, Chase allows you to make as many payments per billing cycle as you like. At one point during my big debt paydown, my statement would list over 20 credits each month. That was very convenient. Any day that I had a few extra bucks, I could log in to my Chase account and make a payment.
With Citi, you're allowed 4 payments per cycle. That would be fine for most, but it doesn't work real well for me.
Bank of America isn't great when it comes to making payments either. Even though my checking account is also with Bank of America, for whatever reason, when I make a payment to a Bank of America credit card, it takes a few days for the transaction to appear on the credit card balance.
Of course, on the other side of the transaction, they withdraw from my checking account immediately. Love that.
I'm very close to pulling the trigger.
Of course, though, I need to wait on a response from Countrywide to see if it's even worth doing.
The entire idea hinges on their answer…