An Entire Year of Doom-And-Gloom… or not.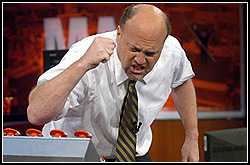 For much of the day yesterday, the headline on CNBC's website read, "Wall Street Hangs On As Credit Crisis Hits 1st Year".
My first thought was, "Has it really been a year?"
I don't really remember all of the non-stop doom and gloom reporting starting until well into the fall. Looking through the PIAC archives, I didn't really make mention of a "credit crisis" until March of this year when I wished the Fed would stop screwing around with interest rates in a feeble attempt to control things that were never in their control anyway.
So, since it has apparently been an entire year, I thought I'd go back and reflect on how far I've come (or gone) since then. You know, with the economy in free fall, home prices dropping, and credit apparently impossible to acquire, how have things gone?
Back on July 31, 2007, we were in the midst of having $26k worth of work done on our house. In fact, I'd just written the check for the final payment on the project.
Heading into August, my net worth had dropped 12% for two consecutive months. Ouch.
Not exactly how you want to start off a recession… though no one was calling it that back then. Still, in hindsight, one would have assumed I was headed for disaster. It's like I stumbled before I even reached the gate…
My credit card debt was riding high again hovering at $18,820 — some at a high interest rate. All of my debts combined totaled $147,627.
But things weren't spiraling downward. Not to my knowledge, at least…
A few months passed, the media started talking up foreclosures, the "crisis" word was thrown around, and Jim Cramer went ape on the live television.
Later, the government would send me a check that I didn't really need, a bank I'd never heard of would fail, and more people would lose their homes — a friend included (though they totally deserved it.)
So now, one year into this "mess", my debts only total around $115k.
That's down $32k from 12 months ago.
No, I didn't even cheat by filing for bankruptcy or something. No government assistance either. No freebies at all — well, except that Stimulus Check, but I didn't ASK for that…
I'm pretty proud of the pace that I've maintained…
And at this rate, I'll take a credit crisis, recession, mortgage-meltdown, or whatever other name they have for it today any time.
Sure, my 401k has remained pretty stagnant for the past 12 months, but that's long term stuff anyway. Doesn't affect my day-to-day finances at all. Warren Buffet has long said that he doesn't care about the next quarter — it's the next 20 years that really count. I'll have to agree with him on this one.
Work hard, stick to your guns, and don't try to cheat the system. That's what I did. That's also what others in my situation (i.e. doing just fine) have done too.
By doing that, none of this mindless doom-and-gloom reporting has really mattered in the short run. If anything, it's lining us up to be in an even better situation once things turn around…
If you're interested, here's the CNBC link to the story I took the headline from.