Net Worth Update: June 2009 (+$8,726)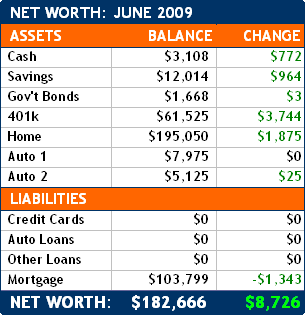 Wow — it was all good news this past month.
Gains all the way. No losses. None!
And to think, I thought last month was great!
The big turnaround came in the value of my home — and combined with my additional effort at paying down the mortgage, well, it almost feels like I'm doubling my money…
Sorta.
Here's the breakdown:
Cash:
Kept my checking account balance above the $3k mark for pretty much the entire month.
I'm working my way towards a minimum balance of $5k and I think I did a pretty good job at moving towards that goal.
Savings:
I'm on auto pilot here. Basically, with weekly deposits totalling $165, I'm just keeping this on the up and up.
Gov't Bonds:
That cool $1k I tossed into the mix back in April hasn't paid off yet, but I'm still confident that I made a wise move.
401k:
I know the news of doom and gloom is still all around, but it certainly doesn't seem like it should be.
Home:
Sweet! This is the first sizable gain in a loooooonnnnggg time.
Auto 1 & Auto 2:
Nothing to report here, though, I have a feeling that I'll be adding an "Auto 3" in the not too distant future.
Credit Cards:
Paid in full — nothing to report.
Auto Loan:
Nothing to report.
Other Loans:
Still… nothing.
Mortgage:
Moving right along. My goal was to knock over 1% of the total balance off each month and I'm right on target. I'd really like to be under $100k before the end of the summer.