Spending Report for June 2009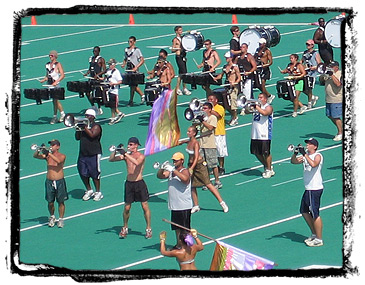 Well, I certainly fell off of the wagon…
I was keeping my spending in check for a few months (April was amazing) there but now I've officially gone off the deep end.
To my credit, I did fire a warning shot on June 7th.
In fact, I was already "over" budget then…
Okay, here goes:
$2400.00 : Mortgage
$617.77 : eBay
$282.45 : Business Expenses
$109.26 : Cable/Internet
$95.14 : Electricity
$65.26 : Natural Gas
$52.64 : Gas
$49.39 : Phone
$40.00 : Drum Corps Tickets
$34.35 : Target (Diapers, wipes, and some side snapping baby t-shirts)
$21.16 : Lowes (Plastic lawn chairs)
$20.00 : Cash
$15.00 : Car Wash
All of that adds up to $3802.42.
That's nearly $1k more than last month. Back in April, I spent $2500 total — this month I spent $2400 on the mortgage alone…
So while the mortgage expenses were the obvious budget buster (term stolen from Debt Destroyer over at Happy Rock), I still have a little explaining to do in some of the other categories…
Yep, I spent a nice chunk of change on eBay this month… And yep, game worn hockey jerseys were the culprit. Again.
Technically, though, I made these purchases right at the end of last month. I just didn't actually pay for them until June. Doesn't make it any better, I'm just sayin'…
The business expenses line is also quite inflated. Before Duncan was born, we'd planned on creating our own birth announcements rather than use the kind you can buy at any store that sells stationary.
We wanted full color. We wanted gloss. We wanted alligators. We didn't want to have to write something in any of them. And we wanted it to look professional.
I designed them myself so that part was technically "free".
I did spent around $100 on stock imagery, though, and the printing company that I use (and recommend highly) also hit us up for over $100 for printing the cards. Then we had to mail them all.
Costly, but totally worth it. If you were fortunate enough to recieve one of the announcements a few weeks ago, I hope it stood out as a Brainy original. Maybe I'll post a picture of them here on PIAC…
All of the related costs fall under "business expenses" because I use all of the same vendors for my, well, business. This was essentially just a non-paying project for myself.
The car wash expenses will end this month though — that's for certain.
In short, a bird pooped right on the door handle on the side where we have the car seat installed. That just wouldn't do. And it seemed like a fun thing to do at the time…
I'm not going to say that next month will be better — what I don't spend on eBay, I hope to send towards the mortgage — but I'm going to try my best to perpetually keep my monthly expenses under $4000.