Networth Update: January 2012 (+$1722)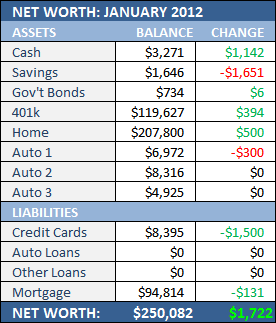 Starting the new year off right with a net worth just north of $250k.
Yep, that's right, I've reclaimed my status as a quarter of a millionaire.
Cash:
December was a three paycheck month for me so there's a little bit of extra padding here.
Savings:
Oh no! What happened? Well, property taxes came due. That's okay, though. It's totally built into my budget that when they come due (every six months), I've got enough in savings to cover it… no matter what.
Gov't Bonds:
Will I hold on to these for the entire year? I doubt it. But while they're still in my asset tank, I'll gladly take the six or seven bucks for nothing each month…
Home:
Zillow.com currently lists my house as the most exensive on my street. This makes the roof of my mouth nice and warm. I know it's not really true — but it's still nice to see.
Auto 1, Auto 2, and Auto 3:
With no movement on the BMW or Land Rover, I'm thinking that their values may have bottomed out. I can't tell you how awesome it's not having to pay a car payment for almost four years now…
Credit Cards:
Crazy considering all of the Christmas expenditures but it's on like Donkey Kong. Yep, I got started on my Goal for 2012 already.
Auto Loans and Other Loans:
Nothing to report.
Mortgage:
Just another minimum payment.