The annual cow parade in Brattleboro, Vermont, billed officially as the Strolling of the Heifers, is coming up this weekend and, once again, we'll be attending.
While it's been on the decline in recent years (in my opinion), it's still probably the most fun parade experience we have each year. I mean, it's not a bunch of little league kids or girl scouts (not even in uniform) hurling melted tootsie rolls at you followed by a handful of fire trucks — which is refreshing.
It's a good parade — with AMAZING attendance.
Remember the time I blogged about it and took a lot of flak from Miss Vermont?
From her official site (long since extinct), she posted a direct link to PIAC calling me every name under the sun…
Not sure what her problem was… Apparently she thought I was a hater or something even though I simply publicized one of her appearances in her home state.
Okay, fine, I'd also said that she looked totally out of place and unprepared for the event based on her choice of clothing.
But… I also put 100% of that blame on the pageant folks, her handlers, and who ever books her appearances and picked out her clothing on that specific day.
This wasn't an event at the make-up counter of Lord & Taylor. It was an agricultural themed parade with cows and tractors.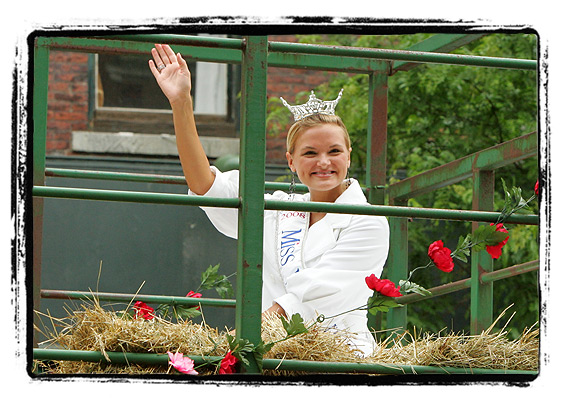 For real, even when you're in contention for Miss America, a white dress isn't exactly the ideal thing to wear when you're going to be sitting on a bale of hay for a few hours. It's just not.
*Someone* in her group should have known that — and that was my point that she apparently missed or just took very personally.
I apologized for the misunderstanding on her site explaining my post (in regards to her) in more depth.
She replied even more aggressively via email, and then a bunch of Honey Boo-Boo pageant types backed her up with lots and lots of profanity.
Not being an internet troll (or even aspiring to be), I was horrified that I was ultimately responsible for igniting a social media flame war on Miss Vermont's OFFICIAL page for all to see.
I never did respond to her again after my initial apology — which was truly sincere. Though I wasn't sorry for what I'd said, I was sorry that she felt it was an attack on her tiara-worthiness.
On the bright side, from this end, the spat actually brought me a ton of traffic from Vermont which, coincidentally perhaps, still exists today.
So this year, my plan is to blog about how ridiculously clothed Miss Vermont is yet again (though not really her fault) and then mention how silly I think it is that US Senator Bernie Sanders (he's usually in the parade as well) is running for President in 2016.
It's funny, one year both he and Pat Leahy (Vermont's other Senator) walked the parade route.
Leahy came by first with like 15 secret service looking guys surrounding him.
Yeah, that's great that you're here and waving to your constituents but you hardly look comfortable in your own backyard when you're surrounded by a bunch of dudes in sunglasses with earpieces in.
Just didn't send a very welcoming message and, frankly, if I were actually from Vermont, I wouldn't feel he was a great representation of myself.
Then Bernie Sanders came through… Just him. Waving and shaking hands with those in the crowd like some low level politician. Kudos to him — he clearly didn't think he was "above" everyone else and he was dressed like a person who hailed from Vermont.
Sadly, I'm guessing he'll have a security detail with him this year — if he even attends.