Architecture for the Little Guy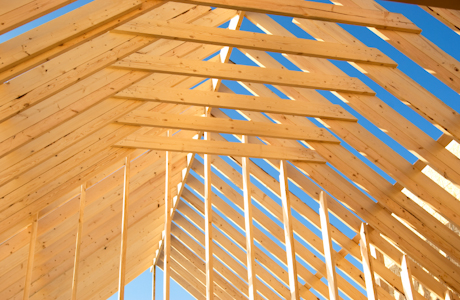 So it's been quite a while since I last mentioned that 3-car garage we were planning on having built.
During my nearly two year long hiatus from the site, we took out another mortgage (you may have noticed on the net worth reports) to get the finances in place, worked with a local architect, and had a survey done of our property to ensure we wouldn't run into any building permit issues.
That was 2013.
We're midway through 2015 now and we still haven't broken ground.
What's up with that?
For real, with the money to fund such a project readily available (currently sitting in a savings account), you'd think that we could have our old garage torn down and the new one up in it's place in a matter of months.
And, for the most part, you'd be right.
I could totally make a phone call tomorrow to get one of those Amish barn-raising groups out here prepping the site and have a full blown garage up sometime next week. [or maybe not]
But that's the thing — I don't really want a pre-fab (Amish guys in hats with mallets in hand or not, they're still pre-fabricated) garage.
Especially when we're talking six figures…
I want something that, well, that I didn't pick off a sales sheet that only offered three or four options to begin with from a pushy salesman at a big box store.
So we decided to contact an architect and, let me tell you, while there are a lot of residential architects out there, most of them only work on $1M+ projects or entire new construction sub-divisions.
No joke — if you're not asking them to design a palace made entirely of marble or an entire neighborhood, they're not interested.
And that's the pickle we find ourselves in…
Sure, we could go out and hire a general contractor like we did for our interior renovation and get this done but… well, while our contractor did exactly what we asked him to do on that project, in hindsight, I wish we would have hired someone that would have done what we'd asked but ALSO advised us on what we should do too.
The goal isn't to find someone to build it for us — that's easy.
The goal is to find someone that'll guide us towards a building that we want but will also stop us and say, "Actually, it'd be a better idea to put that here so that the this doesn't get in the way of that."
You know, things we never even thought of cause, well, we're not architects. Where does the plumbing fit in? Should there be an outlet there?
Often times, when you work directly with a general contractor, you're playing the role of architect. I'm a pretty smart dude but I'm certainly not an experienced architect.
If we're spending this much money on a freakin' garage, I want it done right…and that's why it's taking so long.
The good news is that the old garage hasn't tipped over yet and, somehow, I've managed to keep from spending all of that "garage" money sitting in my savings account.
The downside is that our current architect doesn't foresee the project happening until 2016.
Hey, maybe I'll be able to save a little more by then!