August 2007: Quest for $1,000,000.00 Dollars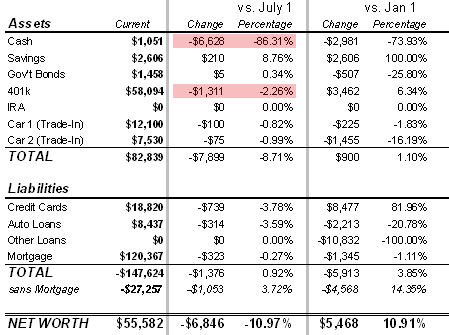 As expected, another month headed in the wrong direction. Both losses come on the assets side this month — the tumbling stock market is having an impact on my 401k (like everyone else), and though the chart indicates that I only dropped 2.26%, if you were to just take the second half of July, the losses are closer to 4%. Ouch.
Good thing I'm still young and in it for the long haul. At the same time, it also appears that I've timed the market perfectly as I just increased my 401k contributions last week.
Okay, that might be a stretch… I'm not actually expecting it to have a large impact in the short run.
The other sizeable loss came in my checking accout; due almost entirely to the siding project. With that behind us, and just a small electrical project on the horizon, the home improvement expenses are done.With that, the ship will be righted in August as there are no large looming bills, besides a dental bill that might actually fall in September, but in comparison to the renovations, it's a negligible amount.
Unfortunately, the trend of increasing value on my daily driver (it actually went up $25 in June!) did not continue this month. I didn't really expect it to, but it was nice while it lasted.
On the liabilities side, it was all good news. All balances, credit cards, auto loan, and mortgage dropped in July. The credit cards didn't fall as much as I would have liked, but they're still falling and now, again, with the siding bills paid, my income can be directed at them more aggressively.