Are you Ready for some Football?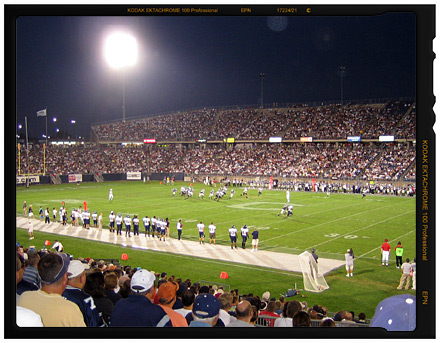 Last night, my wife and I went to our first college football game. I'd actually been to many games in the past when I was in University, but in Canada, well, let's just say college football isn't exactly the "event" it is in the States.
We happened upon tickets to the University of Connecticut's home opener when my wife was offered them by someone at work earlier this week — and seeing as we'd never taken in the 'event', and the price tag was $0, well, how could we not take that up?
So off we went to begin another inexpensive weekend activity. Let me start by saying that this was no Jordan Knight concert, but it was still an entertaining night.
Parking wasn't so bad — it was included with our tickets. Making our way through the parking lots, or more actually a maze of tailgaters, though, was a little foreign to me.
The idea of tailgating doesn't really have any appeal to me at all, though it seemed to be more popular than the actual game. Connectiut is a funny place like that. We're posers. The number of people "pretending" to be big college football folks is downright astonishing. We're not Purdue. We're not Michigan. We're not Notre Dame. We have a modest sized stadium that was built a few years ago — and now suddenly we've got acres of tailgaters with their little tents set up and flags flying high.
Three years ago, before the stadium was even built, well, I'd venture to say many local high schools could boast crowds that rivalled Uconn's crowds. That aside, being that Connecticut fans are classic fairweather fans, once they realize that beating up on teams like the Maine Black Bears (they shut them out last night; 38-0) week after week isn't really all that much to get excited about. I can't wait for the day that a team like Michigan agrees to come here — well, they'll see where they stand. I'd venture to guess shortly thereafter, the crowds will disappear — kinda like they did with the Hartford Whalers.
The funny part, even dominating the game, by halftime, most of the crowd had left anyway. And honestly, most of the crowd hadn't even entered the stadium until the second quarter. So, really, it truly was more about the tailgating and less about the game for most of the "fans".
Okay, enough negativity. The real reason for this post was that I could not believe the mount of money some of these folks must've spent on their tailgating set-ups. Multiple gas grills, really nice tents, flags that go for no less than $50 each, and tons and tons of food. And don't forget the alcohol. We're talking probably over $200 worth of consumables per car. Seriously.
Now, I'm not from the school of no-fun, but all that, for a 4-hour (the parking lots open 4 hours before game time) party? I dunno, you have to think, the set-up time is maybe a half ahour, after sitting in traffic getting in for a half hour. Cut that party down to 3 hours now. Getting the grills going and food on the go, maybe another half hour. For me to set something that elaborate up — well, I'm going to want to use it for more than a couple of hours. Maybe that's just me, but for that kind of money, it's not worth it as far as I'm concerned.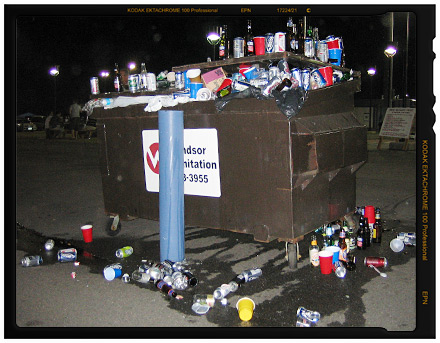 On the way out, I couldn't help but take a picture of one of the dumpsters they have spaced randomly all over the lots. There was easily $200 worth of empties in each one. I'm all for free money, but I wasn't about to dumpster dive — but it is something to keep in mind for those out there who are willing to get a little (or a lot) dirty. Really, you could walk out of there with $1000 worth of cans in a few hours I'm sure.
In the end, our night cost us $11 total. Two $4 sodas (cough! ripoff! cough!) and a $3 order of fries.
Not bad for the "event" of the week in Connecticut.