Hitting the Casino for Top-Shelf FREE Entertainment
A little over a year ago now, my wife and I visited the semi-local Indian Casino, the Mohegan Sun, to take in a free concert performance by my favorite band of all time, They Might Be Giants.
It was our second time taking in the band for free at the Mohegan Sun and both shows were most excellent. No joke, we were less than 10 feet from the stage each time.
Last year, I even had a pseudo conversation with John Flansburgh before the show.
(For me, that was a "Holy Crap!" moment that I'll probably remember for the rest of my life… I didn't squeal like a little girl or anything, I'm just sayin'… it was a moment.)
Well, they're coming back.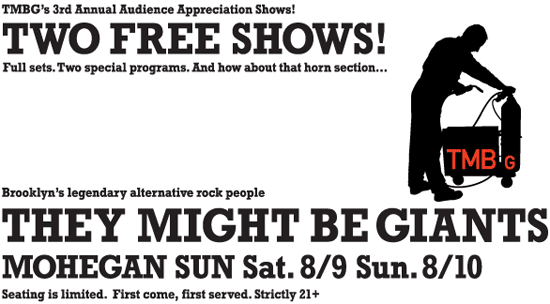 That's this weekend.
Saturday *AND* Sunday.
And it's free.
100% free!
Next week, it'll cost you $32.50 (plus any associated TicketMaster surcharges) to see them at the 16,000 seat Nassau Coliseum (where the NY Islanders play).
But this weekend only, you can see them for FREE in a venue where a capacity crowd is 300 people…
Hmmm… Wonder where I'll be this weekend???