Trying to Acquire Homeowners Insurance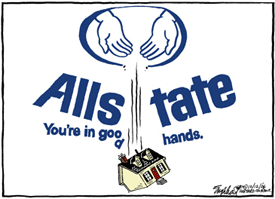 This weekend I took the first step in trying to obtain more conventional homeowners insurance.
What does that mean?
Well, right now, my insurance is bottom of the barrel insurance. When you have no place to go, and no one will take you, what I have right now is what they give you.
It doesn't cover much (or anything), but it keeps the mortgage company at bay.
In the past, my insurance has prevented me from getting a home equity loan to help make the improvements needed to the house. (Though, looking back, I should almost be thankful for that).
Here's how it went down — craptastic insurance company demanded that I make improvements to my home, I went to mortgage company for a home equity loan to pay for the requested improvements, everything is going great, and then the day of closing, the insurance company stops it dead in its tracks: not enough insurance to cover the loan.
Nice, huh? Talk about a Catch-22…
The worst part about it, other than the fact that my policy doesn't cover anything, is that they send you threatening letters every few months and require home inspections each year. I won't even mention the premium.
Basically, you're treated as if you own a dilapidated crack house with no running water. Really.
I've been with this insurance for 5 years now and, frankly, I'm tried of it.
So why haven't I switched already?
That's the $64,000 question…
Not that many people shop around for homeowners insurance on a regular basis, but like with an auto insurance form, one of the first questions they ask is whether or no you've ever been cancelled or denied coverage from another carrier.
The minute you say "Yes", you're disqualified and hurried out of their office as if, well, as if you reside in a dilapidated crack house with no running water.
Back in October of 2002, Allstate dropped my coverage after just 29 days and gave me 40 days to find a new carrier.
With a strike like that against you, I soon found out, it was an impossible task.
My coverage lapsed.
With nowhere else to go, one very rude insurance agent gave me a route to take — the FAIR plan.
As I said, it sucks.
Now, before you start pointing out that my entry room is a little rough around the edges and that it kinda looks like a dilapidated crack house with no running water, let me list out why, exactly, Allstate cancelled my policy.
The roof of the dwelling is damaged and lifting/buckled.
The soffits/fascia/eaves are damaged and needs paint.
The renovations are not completed.
Your chimney is crumbling, separating, in need of tuckpointing.
The foundation of your dwelling or garage is crumbling.
The siding or frame exterior of your dwelling is damaged, has peeling paint.
One or more trees on your property poses a risk to your property because it is overhanging.
The windows of your dwelling or garage needs paint.
The lack of correct singular/plural grammar is theirs, not mine. The windows "needs" paint. Nice…
Anyway, as you see, those are all exterior issues. Every single one of them.
And what have I spent in excess of $40k renovating?
Yes, the exterior.
The roof is new as of December 2006.
The soffits, fascia, and eaves are all new as of August 2007.
The renovations are complete — at least the exterior ones are.
The chimney was torn down when we had the roof done in 2006.
The foundation was tuckpointed by the company we had tear down the chimney — brickwork is brickwork, right?
The siding is now vinyl — no peeling paint there.
The largest tree branch threat was cut down by the utility company because it posed a larger threat to their power lines than it did to my house.
And I'm not sure how the windows ever could have used paint — they're all vinyl and have been that way since I bought the house.
So over the weekend, I contacted a local insurance agency — one that blew me off five years ago. I didn't want to contact them specifically but, logistically, it made the most sense.
Hopefully they'll call me back today asking for more info and further down the line, I'll receive some good news.
My current policy expires December 18.
I'd rather not take it down to the wire…