Sometimes it's Clear that I Just Don't Understand the Markets…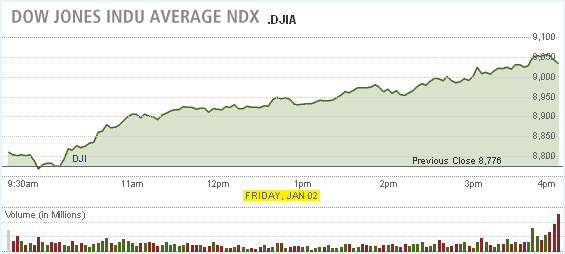 The Dow finished up almost 3%. The NASDAQ was up 3.5%. Those are HUGE gains.
So…where'd this rally come from? It was up, up, and up right from the opening bell.
Bernanke didn't announce anything. I didn't hear Paulsen's name in the news today. Obama's laying low. No signs of all the money Madoff lost… What gives?
You can't tell me that it's some sort of New Year optimism — I mean, in the "real" world, flipping the calendar page from December to January is just like any other page flip.
For me, today was just a regular Friday at work.
Sure, we had yesterday off, but I can't claim that the office had a "new" mood running rampant. I didn't sense any optimism — indifference would more accurately describe the atmosphere lately.
I can't believe that it would actually be *this* different on Wall Street.
Apparently it is…