Vacation: It's That Time of Year Again!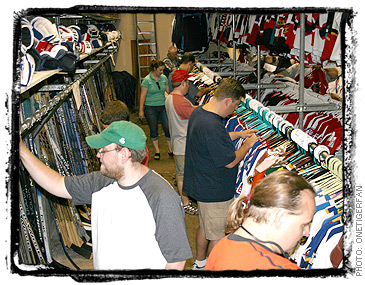 The minute we found out that we'd be having a baby in May, we realized that our monster road trip last year would likely be the last of its kind until around 2015.
But just because we have a baby now doesn't mean that we can't go on vacation — it just means that we need to scale it back a bit.
Okay… A lot.
So instead of 10 hours in the car on day one, followed by an epic baseball game, we're only going 4 hours from home.
And just for two nights. Starting tomorrow.
We're headed for central New Jersey. Exotic, huh?
You'd think that by chosing a destination as unpoplar as central New Jersey, you know, accomodations would be cheap. They are, no question.
Now I know what you financially-minded folks might be thinking… "Hey, at least Brainy's vacation won't cost him so much this year…"
But there's a catch, see…
We're going to a game worn hockey jersey expo.
I know, I know, it sounds preposterous.
But for me, it's like being able to go the hall of fame and actually touch the stuff behind the glass.
It's really just like any other expo or conference though, you know, with a bunch of people with similar interests getting together. They're not as dorky as a sci-fi or comic book convention and they're not so glitzy that their held in Caribbean either…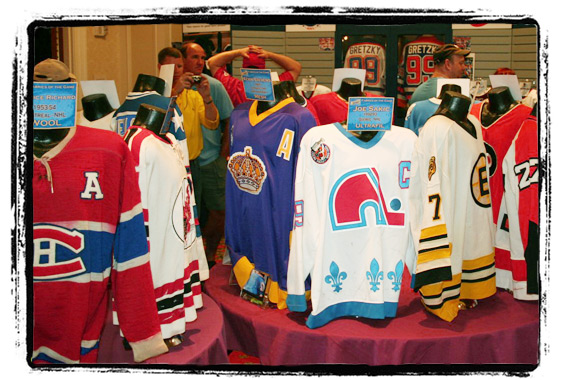 This is my only hobby (photography is work, not a hobby) and this is the Super Bowl for the game worn hockey jersey collecting community.
But seriously, I wouldn't be surprised if I still drop $2500 (around the amount we spent last year on vacation) this weekend.
I'm going to try my best not to — even made a list of things I'm looking for so as to avoid any spontaneous purchases — but I'm not making any promises.
Truth be told, I've got 30 twenty dollar bills in my wallet ready for anyone that won't take a check…
Based on that, I'm already embarrassed by what this month's spending report is going to look like…