Networth Update: September 2011 (-$2703)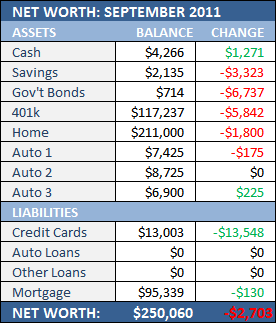 In a complete reversal of last month (where I moaned about a $17k gain), I'm ecstatic about this month's $2700 loss!
Yep — it's not always about the bottom line but where the money actually falls.
Here we go:
Cash:
A nice cushion here. I'm going to do my best to keep it far away from the $1500 floor where Bank of America will start charging me fees.
Savings:
I tapped this in August, obviously. Partially to fund a vacation, partially to fund the car repairs, partially to purchase a new computer, but most importantly, to pay down credit card debt.
Gov't Bonds:
I'm taking a new path now. Sold off most of these to, again, pay down credit card debt and cover some unplanned expenses last month.
401k:
Not as bad as I'd have expected based on the market volatility. In related news, I halted my contributions for the time being to focus more on, again, credit card debt.
Sense a theme?
Home:
My house was supposed to be destroyed by Hurricane Irene last week. Seriously, based on the forecasts, it was supposed to go right down my street.
My house survived but it's value went down because I apparently live in the new hurricane alley.
(it just rained for a few hours. seriously…)
Auto 1, Auto 2, and Auto 3:
Nothing terribly earth shattering here.
Credit Cards:
Hell, yeah! Now I know some out there doubted me here but look at that… I knocked $13k off. Hooray for me!
After farting around for an entire year essentially treading water, I think I'm back on board and on the same rails I was riding for most of 2007 and 2008.
This debt is going to disappear.
Quickly.
I'm definitely on the right track and off to an amazing start.
Auto Loans and Other Loans:
Nothing to report.
Mortgage
Just another minimum payment. Have I mentioned how great it is to have a sub-$500 mortgage bill?