Burress won't take the Field… I won't pay the Mortgage.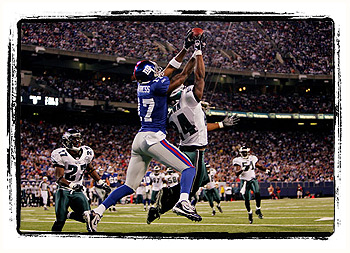 From a story I lifted off of TSN this morning, apparently New York Giants wide receiver Plaxico Burress is refusing to practise because the Super Bowl champions haven't renegotiated his contract.
Burress reported to Giants Stadium for a mandatory minicamp Wednesday, but said he told the coaching staff he won't work out without a new deal.

The wide receiver says he has three years left on his current deal.

Burress, who battled through an injury-hampered season last year, caught the game-winning touchdown in the Giants' stunning 17-14 victory over the previously unbeaten New England Patriots in the Super Bowl.
Um… why'd he sign a multi-year deal? I think the teams should start giving the players a dictionary every time this comes up (pretty much every season).
From the worst dictionary/encyclopedia ever, Wikipedia, a contract is defined as a legally binding exchange of promises or agreement between parties that the law will enforce.
Sure, he made a great catch to clinch the Super Bowl back in February — but that doesn't mean he doesn't have to honor his current contract for the 3 more years he's obligated to.
I suppose he thinks there's a mistake in the numbers — the Giants didn't pay him to win the Super Bowl for them, so he wants compensation now… Sorry bro, you're gonna have to wait (and perform) for another 3 seasons before a raise comes along…
I hope he sits on the sideline all season. Unpaid.
Addendum:
The more I thought about it and tried to compare it to my own non-NFL lifestyle, I realized that my mortgage contract with Countrywide has around 24 years left to go on it.
And I'm not 100% satisfied with the terms of the loan.  It costs me too much.
If I were Plaxico, I'd stop paying the mortgage and hold out for Countrywide to renegotiate the terms in my favor…
Oh wait, people are actually doing that already…
Ridiculous.