My Home's Value — Explained.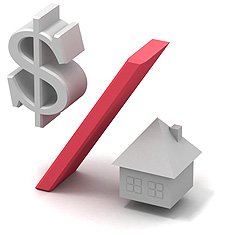 No one has actually posted such a thing in the comments yet but I've received a few borderline obnoxious emails regarding the home value that I list in my monthly net worth reports.
Specifically, the aforementioned and suspected one-and-done readers usually question the validity of the number that I post, call me a a few names, and then accuse me of inflating my numbers.
They justify it to themselves by saying that my home's value fluctuations (or lack thereof) have never really reflected the widely reported "housing crisis" that I'm personally sick of hearing about.
I've posted this part before but here it goes again…
Here's how I calculate the number that I post each month…
In 2007, the city that I live in did a revaluation of every residence in town in order to, well, in blunt terms, significantly boost their tax revenue.
I know that all cities do this from time to time but this one was rather suspect. Anyway, the city's assessment of my house was $210200.
That's my starting point. From there, I head over to Zillow.com on the last day of each month to get their "Zestimate" of my property.
I then take the weighted average of the two numbers — with the more current Zillow estimate weighted 3 times that of the 2007 assessment.
There, that's how I come to that number each month.
So, back to the lack of fluctuation…
Back in June of 2008, I estimated my home's value at $212300. The lowest the value has fallen since then was $193175 (May 2009). That's a drop in value of 9 percent — not a small number but not something that would cause a responsible homeowner to go underwater.
As of last month, though, the value is right back up to $207050. That's a mere drop of 2.5 percent since the housing market apparently started to tank.
I'm fortunate in that respect – not padding my numbers.
I only mention it because a Reuters story caught my attention today:
Northeastern Cities Perform best in Job Growth

NEW YORK (Reuters) – Several cities across the northeastern United States were among the biggest gainers on the Milken Institute's Best Performing Cities 2009 index, the economic think tank said on Wednesday.

Fourteen cities across the Northeast, including some in Connecticut, Massachusetts and New York, were among the top 20 gainers in terms of job growth and sustainability.

The institute compiles the index annually by ranking 200 of the largest cities in the United States based on measures such as wage and salary growth and short-term job growth.

"In a period of recession, the index highlights (cities) that have adapted to weather the storm," said Ross DeVol, lead author of the report.

"As we move forward in a recovery that still lacks jobs, (cities) will be further tested in their ability to sustain themselves."

Hartford, Connecticut, was the largest gainer this year, jumping 101 spots from its 2008 ranking to 48.

Hartford was followed by New Haven, Connecticut, which rose 96 spots to 88.

"These cities didn't experience extreme housing bubbles and therefore avoided a major correction," said the report.

"They also tended to have a smaller dependence on durable goods manufacturing and instead have a larger stake in the services sector."

The biggest decliners were cities in Florida and California, which have suffered most in the housing downturn.

Twelve of the 20 worst declining cities were in Florida, including Pensacola, which fell 124 spots to 157 to lead the laggards.
So, guess where I live?
Yep… the Northeast.
Somewhere right between Hartford and New Haven.
While this article certainly contradicts my recent comments regarding salary growth in the area (and the country as a whole), it certainly substantiates my relatively steady home value…
I think my 2007 assessment and monthly Zillow zestimate calculation is pretty darn accurate.