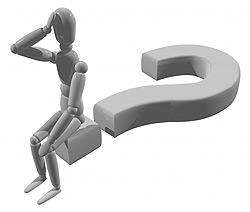 A simple yes or no answer will suffice.
Over at the Happy Rock, Debt Destroyer lists out his monthly expenses and every month I think to myself, "Man, that guy spends a lot…"
I've even left a comment a few times saying almost exactly that.
But does he really spend a lot?
Obviously, his numbers always seem high to me so I'm pretty convinced that he spends a fortune each and every month but, honestly, I've never really kept great track of my own spending — just my plus/minus.
In short, I'm going to give it a try.
I think I had a pretty expensive February, so these numbers might be a little bit higher than usual, but maybe not…
$1350.00 : Mortgage
$897.20 : Auto Insurance
$498.00 : Hockey Jerseys
$327.08 : Natural Gas
$320.00 : American Cancer Society
$154.72 : Electricity
$123.62 : Business Expenses
$109.26 : Cable/Internet
$98.67 : Water/Sewer
$62.00 : Clothing
$60.00 : Valentine's Day
$59.40 : Phone
$38.87 : Gas
$20.15 : E-Filing
$14.97 : Finance Charges (GRRRR!!!)
That adds up to $4133.94!
Holy crap.
DD's tally for January was $4205.68 — just a tad more than me!!!
I'm actually quite surprised that I'm right there with him… and to think people gave him a hard time, myself included, over a $180 Pearl Jam box set and here I am dropping nearly $500 on hockey jerseys.
(In reality, I dropped over $800 on hockey jerseys as the American Cancer Society donation was in fact a charitable donation for, well, a jersey…)
It's complete madness.
The only good thing I can take from this analysis is that, as I said, this was an expensive month for me.
It's not like I drop $897.20 on auto insurance each month. And the $818 spent on hockey jerseys, as lame an excuse as it sounds, was a much needed splurge.
Subtract those two from the picture and my expenses for the month were only $2418.74.
I say that like it's nothing… Crazy, I tell ya…
And, technically, I could even take it a few steps further and take out the water bill (it's quarterly), Valentine's Day, the e-filing fee, and the finance charges.
And really, with the weather warming up, the gas and electricity bills be be cut in half (or more) in a couple of months.
So I guess it's all good news for the months ahead.
Either way, though, my short term goal for March will be to keep my expenses under $2500…
According to Microsoft Money, I haven't accomplished this since April of 2001 — not even close. That blows my mind.